How Selling On Amazon Works from the Inside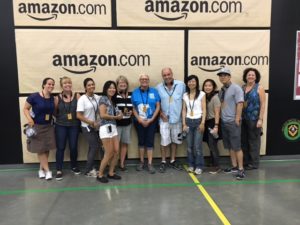 Many people are curious how selling on Amazon works. I sell on Amazon using both Fulfillment by Amazon (FBA) and their merchant fulfilled (MF) process. A seller who uses MF finds a great product to sell, lists it on Amazon, and when it sells Amazon notifies you, the seller, and you ship the item yourself. When a seller uses FBA, you find great products to sell, list on Amazon and then ship the items directly to Amazon to let them do all the fulfillment… packing, shipping to the customer, and handling any returns. These are just the bare bones basics and it is a great business model I love.
Let's Take A Peek Inside
Since I am an FBA seller I have always wanted to take a peek inside one of the warehouse/distribution centers and see how selling on Amazon works from the inside. Last week I had the opportunity to take a 2 hour tour of the Amazon facility in San Bernardino, Ca. The tour had been set up almost a year ago by a member of an Amazon group of sellers I belong to.
There were a few restrictions such as we were required to wear flat, closed toe shoes, pull our long hair back and carry few items. I am generally a flip flop kind of gal, especially in 100+ degree heat, but I happily complied. No pictures were allowed once we were ushered through the gates. They gave us headphones, a recording device to hear the tour guide over the noise, an orange Amazon bracelet and a water bottle. All the essentials for the tour.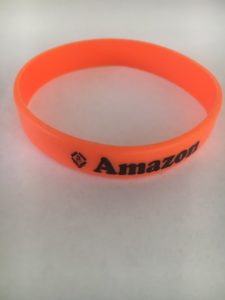 The facility is huge! 20 plus size football fields to be exact! Over 8 miles of conveyor belts your products travel on and the final belt to get the product to shipping goes 25 miles per hour. There were shelves stacked 7 rows high and pallets of products in a different section. It was so interesting to see their innovative technologies and all the processes from receiving, storing, packing and shipping. Amazon has a very organized facility and the workers wear different colored vests depending on the area they work in. 18 million different products are stored here.
Impressive Processes
The packing and labeling processes are so efficient. Employees stand at stations wearing gloves and when the customer product ordered arrives on a conveyor belt the computer tells them exactly what size box to use and they have pre-cut tape, all ready to seal the package with. They never even see who bought the item. The belt sends the package past a machine that blows on the shipping label. The machines are so sensitive that they can tell if the weight is inaccurate based on what the contents are suppose to be.
Our guide shared a story of how a particular CD that was repeatedly sold and packaged failed to get beyond the weight check point every time. Turned out the CD's were not in the cases, a manufacturers problem. That's great for us sellers as they didn't ship the items and disappoint the customers. Of course with the volume of sales they do at this one facility, about 500 orders per minute, you can see how problems occur occasionally. As a seller on Amazon it was great to see things from their perspective.
This particular Amazon facility has 2500 employees and when they provide pizza for them as a perk on a special day they buy 750 pizzas! During the holiday season they can have upwards of 7000 employees to process orders to their customers. Seeing how selling on Amazon works from the inside was an eye opener.
Amazon's #1 core value is Customer Obsession. It's all about the customer and delivering great products in an efficient, fast fashion. As a Amazon seller that does merchant fulfilled too I know how time consuming that can be. Their systems and machines were impressive.
What Does This Mean For You
If you want to learn how selling on Amazon works from a sellers perspective, and would like to earn extra income or turn it into a business, I highly recommend starting with a course by The Selling Family. Check out their resources to learn more. I have several of their courses and they have really helped me refine my processes.
I was so impressed with Amazon's facilities and opportunities I will be sharing more in the coming days . Stay tuned. 🙂